Hey there fellow explorers! If you haven't already heard, Rocky the Beaver loves a good adventure. As one of the featured items found in the Lil' Explorers Adventure Pack, he knows a thing or two about having fun on the road. Fortunately, Niagara is home to many different destinations that are just waiting to be discovered on your next road trip. As most travellers do, Rocky likes to commemorate his favourite trips with a photo of himself so he can look back on good memories.
Check out his photos and complete our quiz below to see if you can answer the question, "Where's Rocky?". Once you submit your quiz, you'll be entered for a chance to win a Lil' Explorers Adventure Pack!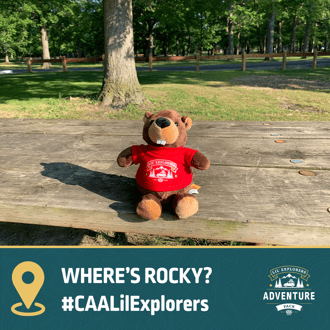 Photo #1 - A trip to the park
Whether it's for a picnic or a walk, hitting up the park is a classic summertime activity. Here you can see Rocky enjoyed a day at one of St. Catharines' many parks. Does this location look familiar to you at all? Maybe you've had a family barbecue there or visited while on a field trip. Keep reading and take some time to think about it as you scroll through more photos.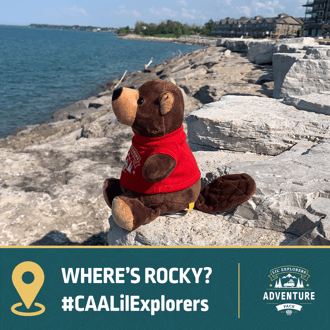 Photo #2 - A waterfront view
Spending a day by the water is a nice way to relax during the summer. Thankfully, there are many spots situated all over Niagara where you can do just that. It looks like Rocky is taking in a view of one of the Great Lakes in this photo. The surrounding buildings seem rather new. Perhaps this is an up-and-coming area. Any thoughts on where this might be?

Photo #3 - A blast at the beach
Going on a boat ride is something many people look forward to doing in the summer – Rocky included. As you can see, he knows just the spot for that. After cruising through the waves, he decided to relax out by the marina and explore the local attractions – which include a beach, park, and iconic carousel. Is this ringing any bells?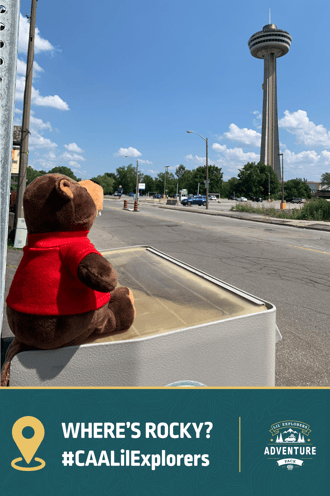 Photo #4 - A place worth exploring
Rocky's last stop shows him looking up at a cool building in the background. This seems like it might be a popular location among tourists. If you've ever been to this part of the region, you'll know that there's roaring excitement and entertainment everywhere you look. Any ideas?
---
Do you know where Rocky is in each of the photos above? Complete the form below for your chance to win your very own Lil' Explorers Adventure Pack.
Lil' Explorers Adventure Packs are available in all CAA Niagara Branches for $19.95 (Member Price) and $34.95 (Non-Member Price). Taxes to be added at time of purchase.