Planning your wedding can be a truly magical experience, full of excitement as you and your partner begin the next chapter of your lives together. With that excitement follows the process of planning your celebration, which may include tough decisions on venue, menu, décor, and more.

Gemini Photography Ontario
A destination wedding can add a layer of complexity to this process, as you'll be coordinating your special day miles away from the site where you'll exchange vows.
As destination weddings continue to grow in popularity, it's helpful to know the steps couples should take before saying "I do" outside of Canada.
We sat down with Stephanie McCloy, a CAA travel advisor at the Grimsby office, who recently said "I do" at the Grand Bahia Principe in Runaway Bay, Jamaica.
"It was fabulous," says Stephanie, reminiscing on her special day. "The team of wedding planners took care of everything!"
As a professional travel agent and destination wedding specialist herself, Stephanie understands that the magic is in the details and that coordinating such a special event takes an experienced team.

Gemini Photography Ontario
"Because Jamaica is an English-speaking country, we had absolutely no trouble in making clear exactly what we wanted," she explains. "Canada recognizes marriages performed there as legal, so there was no need for a second or civil ceremony when we got back."
You might also like: Travel insurance for families: common questions, answered
Having always dreamed of being married on a beach, Stephanie was initially attracted to the level of intimacy a romantic beach ceremony offered her and her husband. She was also excited to learn that the price tag for her destination wedding would be 50-70% lower than the cost of hosting the event at home.
In fact, the average price per guest for the wedding dinner was $35 U.S. – a bargain compared to the cost of venues in Niagara and Greater Toronto Area.
"Best of all," she said, "all of our friends and family were with us for a holiday week, not just a single day."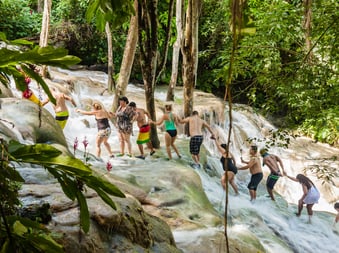 During the week of the wedding, friends and family enjoyed a trip to Dunn's River Falls, giving both families a chance to get to know one another and have some fun before the big day.
"We loved that time together," she says. "We were excited to be able to take advantage of some of activities and attractions Jamaica has to offer. It definitely created a more engaging experience for our guests and helped us make memories that will last a lifetime."
With 58 guests in attendance, Stephanie and her husband were eligible for a special package, which kept costs at a minimum. While planning her day, she was thrilled to discover that the venue supplied everything necessary for a beautiful celebration, including an officiant, fresh flowers, basic photography and a delicious menu.

Gemini Photography Ontario
To carry out their vision, the Stephanie and her husband made a few enhancements to their celebration, which included bringing their own photographer. They also arranged for a DJ and sound system so that guests could dance the night away.
You might also like: 5 steps to prepare your home for vacation
Looking back, Stephanie is delighted by her destination wedding experience. For couples interested in booking their special day outside of Canada, Stephanie has some advice for planning the perfect day.
Timing is everything
Be sure to book at least a year in advance to ensure that you'll get your dream venue. Booking early is also a courtesy to your guests. Sending a 'save the date' will give them time to book time off work and save for your special day.
Contact your airline and resort
Let the airline know that you're wedding-bound and they may provide special storage for your dress or suit in the airline cabin. It's helpful to also contact your resort to see whether the staff can steam your finery ahead of your big day.
Pay attention to your options
Take time to work with the venue's events team on your itinerary. At most resorts, you can choose to have an entirely separate area for your reception or can be accommodated in a private area of one of the à la carte venues. If budget is a concern, you may you may be able to cut costs depending on your choice of reception.
Whether you'd like a private dance party on the beach or you're happy to celebrate with other guests at the resort's disco, it's important to work with the resort's events team to coordinate your celebration.
Work with an expert
Stephanie's final piece of advice is to work with an experienced travel agent to help plan your big day. From room rates and resort amenities to paperwork and travel arrangements, CAA Niagara's team of specialists can help you create the perfect wedding, honeymoon, or vow renewal outside of Canada.
The planning process becomes even easier with the addition of a CAA Deluxe Wedding Package, which includes a customized wedding website, printed and electronic stationary, and gifts for guests.
---
No matter where you are in planning process, CAA Niagara's team of destination wedding specialists can offer recommendations and suggestions that will have you walking down the aisle with the least amount of stress possible.
Contact Stephanie about plans for your own celebration by calling 905-322-2718 or by booking an appointment online.