Before escaping on your next family vacation, don't forget to pack peace of mind. Whether you're taking your family to Walt Disney World Resort® or vacationing in a different province, it's important to include Travel Medical Insurance as an item on your packing checklist.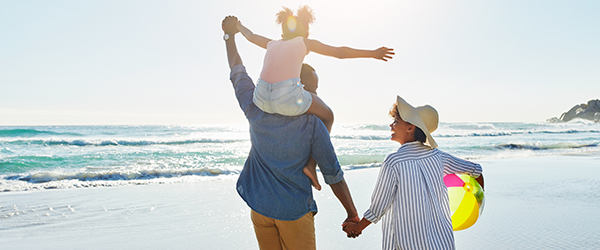 Travellers often find themselves unclear as to the many benefits offered by Travel Insurance options, including family rates. If you're planning to travel with family and want to make sure that you get the right travel insurance coverage, read the 5 most commonly asked questions below. We've simplified terms and distilled some need-to-know information.
1. What makes a family rate Travel Medical insurance package so special?
Similar to an individual Travel Medical and Trip Cancellation and Interruption Insurance plan, Travel Medical Insurance coverage under a family rate covers you, your spouse and all your children under one policy. Rather than purchasing individual policies for each member of your immediate family, a family rate covers 2 children who are under 19, under 26 and full-time students, or dependent on parents (for example, if they have a disability).
For larger families, a family rate provides much more value, as coverage is based off a simple formula:
$ amount of oldest parent's insurance premium x 2.00 (or 2.75 for added medical + trip interruption and trip cancellation insurance)
2. Do grandparents qualify under a family rate insurance policy?
Yes, if you're a grandparent and want to take your grandchildren on a trip outside of Canada or to visit another province, you also qualify for coverage under a family package. When it comes to the cost of coverage, the pricing formula remains unchanged.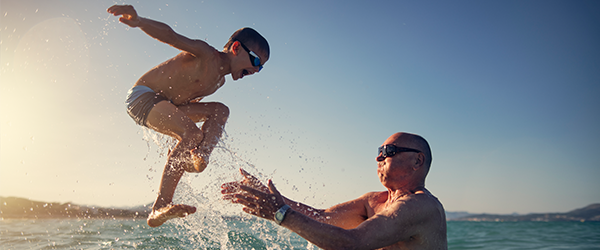 It's important to keep in mind that grandparents or older parents travelling with children may have higher premiums. Always compare the cost of a family plan with the cost of individual plans to ensure you're getting the best value. Check with an Insurance Specialist to make sure you're getting the best coverage for your family's needs.
3. What if our family vacation is unexpectedly cancelled or delayed?
Significant flight delays or children getting sick are events that, understandably, are not often thought of when planning and booking vacations. However, when selecting the insurance package that meets your family's needs, don't overlook the importance of Trip Cancellation and Interruption Insurance.
Trip Cancellation and Interruption Insurance plans are designed to protect you from a long list of complications that will derail your travel plans. These events can still happen, of course, but you'll be protected from the cost of unexpectedly returning home and reimbursed for unused portions of your prepaid trip.
Trip cancellation protects you from situations that could force you to cancel your trip before you depart, such as your home flooding the night before takeoff. Trip interruption covers the cost of unforeseen events, beginning at the time of your departure. For example, having to cancel a portion of your trip due to the unexpected passing of a loved one, or a road closure due to bad weather causing you to miss your flight.
4. If my family and I are traveling within Canada, but outside of Ontario, do we still need to purchase insurance?
In short, yes. Whether you're planning to explore Vancouver Island or experience colourful St. John's, NL, it's a smart idea to purchase Travel Medical Insurance for trips within Canada.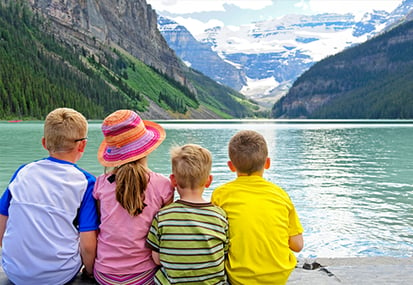 Not all provincial health insurance programs are created equal, which means not all medical expenses are covered outside of Ontario. Provinces and territories, with the exception of Quebec, have reciprocal billing agreements. This means that bills from medical treatments, such as walk in clinic visits, are sent between provinces without the traveller paying upfront. However, payment is limited to goods and services insured within Ontario, leaving travellers on the hook to pay for the many exceptions.
Carrying Travel Medical Insurance on trips within Canada can protect you from any unforeseen medical expenses not covered by provincial health insurance. You might be forced to pay for expenses such as medical transportation (ambulances or air evacuation back to Ontario), emergency dental treatment, and rescheduled flights due to medical emergencies. Our Multi-Trip Emergency Medical plans provide you and your family with unlimited coverage when travelling within Canada. We recommend speaking with an Insurance Specialist to make sure you get the right coverage.
5. Does coverage under a family rate only apply to trips taken as a family?
No, travellers who are covered under a family rate on a Multi-Trip Vacation Package will be insured for trips for a full year. Whether you've purchased a 8, 15 or 30-day package, each eligible member of your family will be covered for trips made as individuals. This means that if your children or grandchildren are attending a school trip in Montreal, your spouse is on a business trip in British Columbia, or you're cross-border shopping, each of you will be covered under your family plan. Unsure of the duration of coverage you and your family will need? You can always purchase additional top-up's for trips that exceed your day limit.
As a bonus, the day limit doesn't apply to trips made within Canada. This means that you and your family can travel in Canada for up to 365 days with a Multi-Trip Travel Medical Insurance plan.
GET THE TRAVEL MEDICAL INSURANCE YOU NEED
Protect what matters most, wherever you go. To get a quote or for more information, visit CAA Travel Insurance online at caaniagara.oriontravelinsurance.ca, by calling 1-800-263-7272, or by visiting your nearest CAA Niagara branch.
CAA Travel Insurance is underwritten by Orion Travel Insurance Company, a CAA Company. Certain exclusions, limitations and restrictions apply. A Medical Questionnaire is required regardless of age.