Whether it's March Break, Spring Break or a weekend getaway, many families are looking to change up their scenery and recharge their batteries after a long winter. Though it may be hard to contain your family's excitement - the kids may have been talking about this trip for weeks - doing some prep work before you depart can help to create an unforgettable holiday.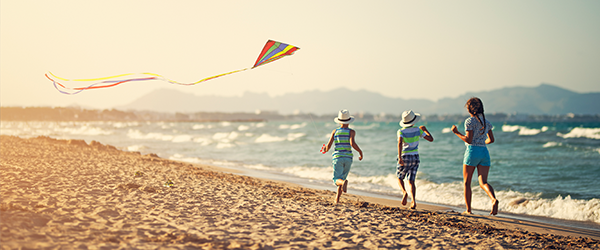 Before you leave
Check your vehicle
Whether you're planning a road trip or to drive your family to the airport, it's essential that you check the safety of your vehicle. Avoid the stress and last-minute delays of vehicle breakdown by topping up your windshield washer fluid, filling up your tank, and having your oil changed if needed.
If you've been meaning to figure out why your car's making that clinking sound, it's better to take it into a CAA Approved Auto Repair Service (AARS) centre before - not after - your trip.


Plan their entertainment
If you're travelling with young children, it's a good idea to pack their favourite snacks, books and games to keep them entertained and avoid restlessness. Packing plenty of travel-sized entertainment items should keep them from thinking about their destination being hours away and avoid the 'are we there yet?' stress.
Check your type of Travel Insurance protection
Travel insurance protects your family against unexpected costs should someone suffer from an emergency, such as an unforeseen illness or injury while out of Ontario. Emergencies are never planned for, so getting travel insurance is the best way to ensure you get the assistance you need without the financial burden.
With two recently-introduced riders - not often found in standard travel insurance policies - travellers can further customize their level of protection when travelling outside of Ontario. Depending on your needs, adding the Pre-Existing Medical Condition Rider or the Adventurous Air Activities Rider may provide the level of protection you need.
Pack a medical kit
Make sure to keep bandages, sunscreen, hand sanitizer, and allergy medicine close by. It may also be helpful to carry extra snacks, stain-remover sticks, and wet wipes in your carry-on bag, just in case of flight delays and accidental spills.
While on vacation
Maintain your safety rules
What you do at home to stay safe is what you should do during vacation. If you don't allow your kids to venture off in your own neighbourhood, keep a close eye on them when they want to explore your hotel or all-inclusive resort.
It's also a good idea to assign a central meeting place in case family members get lost or separated.
Plan the basics
As many parents know, travelling with kids can be unpredictable. Although vacation often means a relaxation of structure, planning for sleep, meals, and free time can make all the difference in keeping your family happy. This may mean setting alarms for naps or making dining reservations in advance of your trip.
Scheduling downtime for the kids - and the adults - is also a great idea to ensure a relaxing vacation.
---
The most important way to ensure your family travels safe is being covered with CAA Travel Insurance. From multi-trip medical plans, to additional riders, it's easy to plan ahead and find the coverage that suits your needs. Plus, CAA Members save up to 10%1 on travel insurance.
CAA Travel Insurance is underwritten by Orion Travel Insurance Company. Certain exclusions, limitations and restrictions apply. Subject to change without notice. A Medical Questionnaire may be required to purchase travel insurance.
1Applies to CAA Members in good standing (CAA Membership dues paid in full by membership expiry date). Ten percent (10%) savings applies to the total premium excluding applicable taxes. Minimum premium applies. Subject to change without notice.