If there is one thing that all homeowners can agree upon, it's that houses require a lot of maintenance. It's crucial to stay on top of these tasks to avoid expensive repairs down the road. This maintenance checklist will help you keep your home in prime condition.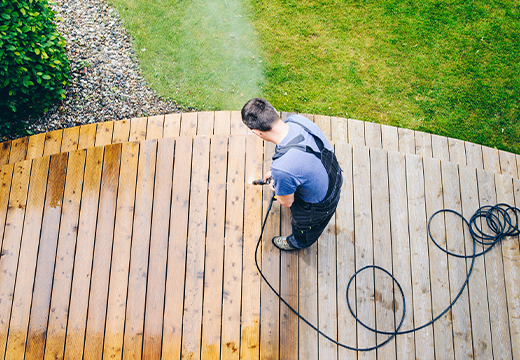 Spring
Spring is the season of new beginnings. And while I'm sure you're excited for the warm weather, this is also a great time to address any wear and tear your home might have encountered during the winter months.
Inspect the roof, foundation and chimney
A harsh winter can certainly take a toll on your home. Walk the exterior of your house and look for cracks in the foundation, loose/broken singles and chimney deterioration. If you see any areas of concern, address them immediately.
Check your sump pump
With all those spring showers, you'll want to make sure things are draining properly inside too. Test your sump pump and make sure it's removing water correctly.
Clean the exterior

Spring is a great time to clean the exterior of your home. Use a regular garden hose or a power washer to scrub off the winter grim. While you're at it, why not refresh the deck with a quick wash too.
HVAC Maintenance

Schedule an appointment for HVAC maintenance. An HVAC technician will check duct work, clean/service the furnace, as well as the AC compressor. This is important to do on a regular basis to keep everything operating efficiently. While they're there, have them clean the lint out of the dryer vent to reduce the risk of fire.
Check smoke alarms and carbon monoxide detectors

The majority of fire related deaths are due to inoperative smoke detectors. Make sure yours are in working order by changing the batteries bi-annually and doing a quick test. Many homeowners choose to do this in conjunction with daylight savings.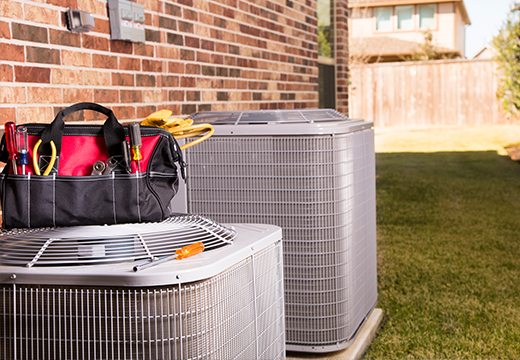 Summer
Summer is the time to enjoy your home to it's fullest. While many chores can wait, there are still some maintenance to keep on top of.
Plan for the heat

Keep your A/C from running on overdrive this summer and do your part to keep the warm air outside. Check the weather stripping around doors/windows and replace if necessary. You can also consider covering any windows that are exposed to direct sunlight to block out the sun's hot rays.
Remove bugs & pests

Your home is a popular place for pests. Ants, carpenter bees, squirrels and mice always seem to be barging in, especially in the summer. You can handle some infestations with a simple spray or small trap, but others require professionals. Be diligent to reduce infestations by sealing holes where critters can enter.
Consider upcoming home improvement projects

Contractors are busy folks. If you're planning on tackling a home renovation project in the fall or winter, it's a good idea to schedule your project now.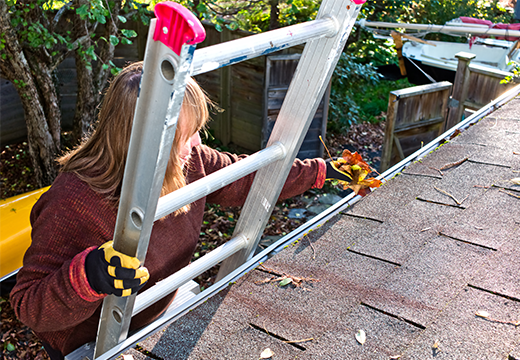 Fall
As the leaves start to change, you should be thinking about prepping your home for winter. It's important that your home is ready for the ice and snow.
Turn off outdoor water supply

As winter approaches, you'll want to avoid frozen or burst pipes, make sure to turn off any outdoor faucets and insolate any pipes with a risk of freezing.
Gutters

Once the leaves have finished falling, you'll want to clean out the gutters for the second time this year. Your gutters are needed to move the melting snow away from your home, so it's crucial that they are clear of debris.
Check fire extinguishers

A fire extinguisher is your best chance to put a fire out quickly and safety, so it's important to make sure they are in working order. Do this by checking the expiration date, then check that the seals are intact, look for any damage and check the pressure using the test indicator.
Garden

The fall is a great time to refresh your garden by planting perennials, trees, shrubs and bulbs. Your efforts will be rewarded in the spring, when your garden blooms at it's full potential.
Chimney

As the cool weather approaches, you'll want to make your home warm and cozy with the help of your fireplace. Make sure the dangerous gases are getting carried out of your home through the chimney and schedule a regular checkup and cleaning.
Check smoke alarms and carbon monoxide detectors

Once again, it's time to check that your smoke alarms and carbon monoxide detectors are in working order. This will help to protect your household in case of a fire.

Winter
Once the snow starts to fly, most of us are spending more time indoors. So, it's a good chance to catch up on any indoor maintenance that might have been forgotten in the warmer months.
Replace caulking

Check the caulking around showers, tubs and sinks and replace if necessary. Poor caulking can lead leaks and mold in your kitchen or bathroom.
Inspect toilets, sinks, and kitchen appliances

Take some time to inspect your toilets, sinks and kitchen appliances for leaks and make sure everything is operating smoothly.
Be prepared for snow
You never know when the first snowstorm will blow in. Be prepared by stocking up on the winter essentials, such as ice melt and kitty litter. It's also a good idea to make sure your snowblower is in top working order and send it in for a tune up.
Regularly check for ice dams

As ice builds up along the eaves of your roof it can cause an ice dams or icicles. This can cause damage to your gutters, shingles and siding. Keep an eye on your roof for ice dams and icicles. If they are a reoccurring problem, you might want to consider buying a roof rake to remove freshly fallen snow and you'll avoid this concern altogether.
No matter the season, having the right insurance policy is vital to protecting your home. CAA Insurance1 offers a range of products that are flexible and designed to meet your unique needs. Plus, CAA Members save 10% on CAA Home Insurance2.
For more information or to get a no-obligation quote, contact a licensed CAA Insurance agent at 1-833-665-8237 or get a quote online.
---
1 Property Insurance is underwritten by CAA Insurance Company. Certain conditions, exclusions and underwriting eligibility rules apply.
2 To qualify for the discount you must be a current CAA Member in good standing (CAA Membership dues paid in full by membership expiry date). Eligible CAA Members may qualify to receive a Member Loyalty Discount based on membership tenure and Roadside Assistance usage.