For many of us, incorporating walks into our daily routine has become a habit as more of us work from home or continue to look for ways to stay active. Whether you're taking the dog out to stretch their legs, or taking a mid-day break to clear your mind, many of us are making more of an effort to enjoy the benefits of being outdoors. To help you maintain this positive habit, we've compiled a list of Niagara trails that are suitable for various fitness levels and ages.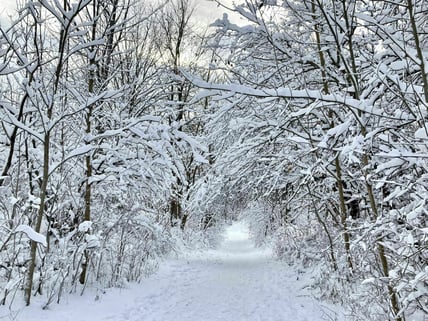 Photo credit: Christine Huang, 2020, AllTrails.com
Black Walnut Trail Loop
Short Hills Provincial Park
Short Hills is a great place to check out Niagara's beauty. One of my favorites is the Black Walnut Trail Loop. It's a fun and scenic challenge. It's just over 5 kilometers, has a few steep hills and crosses over a few creeks. The hike should take about 2 hours and has two access points - Pelham Road and Wiley Road. Simply follow the yellow #2 trail marker. The trail also connects with the Swayze Falls trail if you are feeling adventurous and want to continue exploring.
- Shelby, CAA Niagara Member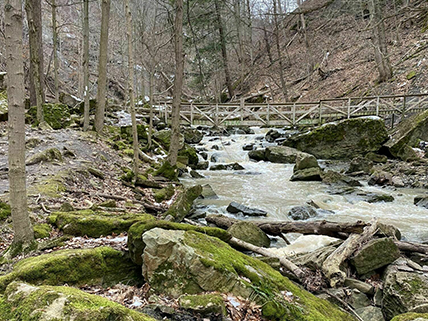 Photo credit: Broderick Edwards, 2021, AllTrails.com
Rockway Falls
Rockway Conservation Area
This route is located on Pelham Road in Lincoln and a part of the Bruce trail. It's a shorter loop than most trails in Niagara at only one kilometer long but that is an advantage for those short on time or new to hiking. This loop is usually less busy than most trails and features a waterfall which is a great spot to take a break and enjoy the surroundings. It's a little tricky to notice the trail makers so make sure you are attentive. This trail is great for all levels and a great starting point in your winter journey to explore Niagara's trails.
- Jesse, CAA Niagara Member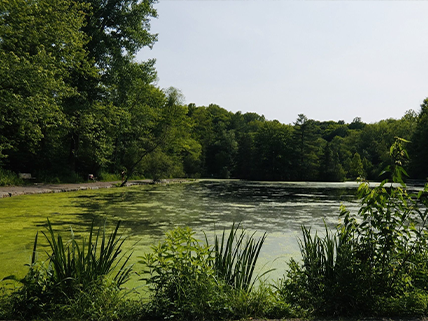 Photo credit: Bobby D., 2019, AllTrails.com
Saint John's Conservation Loop
Saint John's Conservation Area
With four different trails to chose from, all varying in difficulty, Saint John's Conservation Area is great for families with young children. Centered on a duck and trout pond, the area has several spots to sit and relax as you listen to the sounds of nature all around you.
- Delaney, CAA Niagara Team Member
As part of Niagara Peninsula Conservation, the Saint John's Conservation Loop is located within the Niagara Escarpment along Twelve Mile Creek. Parking and access points can be found off Barron Rd in Thorold. The park has four different trails that vary in length and combine for just over 2 kilometres. My favourite hiking trails are 1 and 4 which are short and great for all levels. Then finish off the day with a relaxing walk along the gravel path surrounding the pond by the parking lot.
- Alex, CAA Niagara Member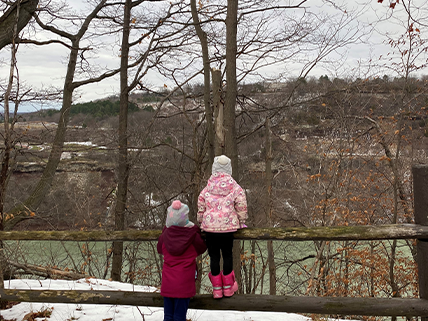 Photo credit: Delaney Bates, 2020
Queenston Heights Walking Trail
Queenston Heights Park
This walking trail is a low- to moderate difficulty level that is suitable for young families without strollers due to the number of stairs in the area. This trail takes you on the path of the Battle of Queenston Heights, the first major battle in the War of 1812, next to the picturesque Niagara Gorge. This path is a great resource to learn more about not only Niagara, but also the role that this area played in Canada's history. The trail features several resources to trace history, beginning at the Sir Isaac Brock monument. My kids were eager to read every checkpoint and learn what happened in that area.
- Delaney, CAA Niagara Team Member
The list of great trails in Niagara goes on and on. Whether you visit some of these recommended trails or try out some of your own, make sure you always keep our tips in mind. If you're a Member, be sure to stock up new gear from Sail to earn 5% back in CAA Dollars. Hiking with your furry friend? Members save 10% on the latest gear at Ren's Pets.