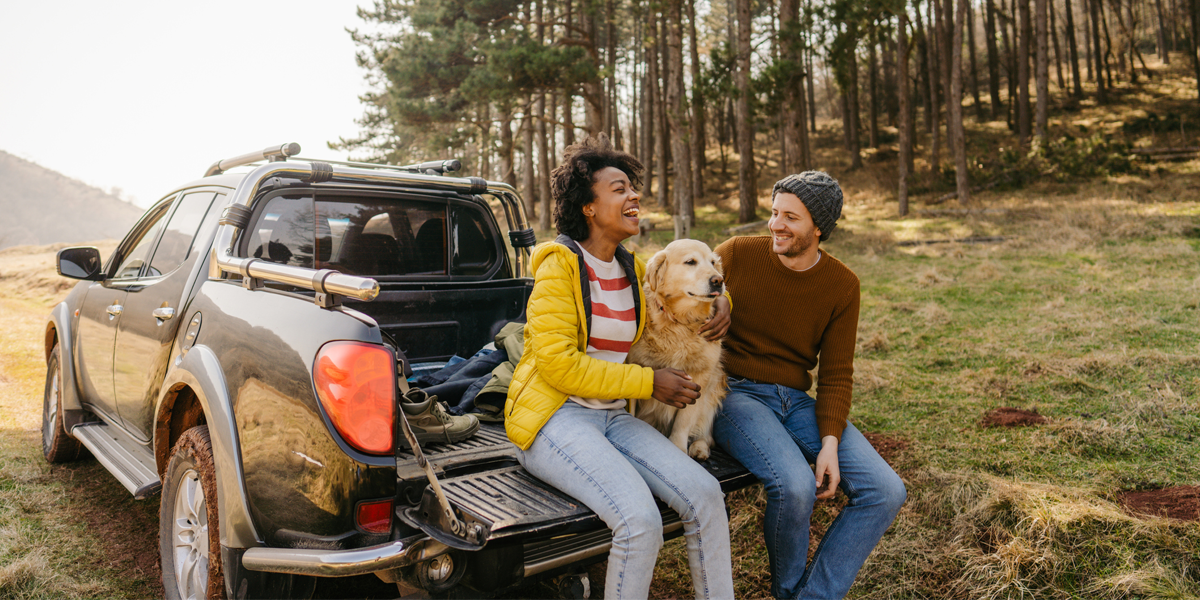 With the Dog Days of summer knocking at the door, many are hearing the call of the wild or being bitten by the travel bug. For some people, the idea of leaving their beloved four-legged friends in a kennel or under the care of someone else while travelling has become a separation that they don't look forward to. There are few things worse than the solemn look on your pet's face as you start to pack your bags and they realize something different is happening. Travelling with our furry best friends not only allows us to create memories with them but also allows them to experience a little bit more of the world around them.
So, if you've decided that travelling with George the Golden Retriever or Tammy the Tabby is for you, there are some things you'll want to consider before heading out on your travels. Keep reading for some tips and tricks to make this adventure with your four-legged friends not only successful but something you may want to turn into a tradition for years to come.
Practice Makes Perfect
The first thing you'll want to do before loading up your four-legged friend into your car is ensure they are familiar with going out for drives. Most pets are used to getting into the car for vet visits, so you'll want to ensure that you expose them to a variety of car trip lengths and destinations prior to travelling. You don't want them to get anxious thinking they are going to the vet when you hit the road for some good times.
Visit a Vet
Next, a quick visit to the vet is always a great idea. You'll want to ensure that your fluffy best friends are in optimal shape for the travels ahead and that they are up to date on any recommended vaccinations. You will also want to ensure that they are protected against ticks, fleas and mosquitoes along with any other parasites they may encounter while travelling.
Additionally, if your pet is currently on any medications, be sure to pack extra in case your trip happens to get extended by a few days.
Safety First
Another thing you'll want to consider prior to travelling with your fluffy friend is how you'll keep them safe and secure in your vehicle. A specialized seat belt or comfortable crate are great options for keeping your furry companion safe. Keeping them secure also helps to eliminate distraction, keeping you and other travelers on the road safe.
Pit stops are a must during your travels to let your four-legged friend out to stretch their legs and relieve themselves. Pets are inherently curious, and this is especially true when they are experiencing a new location. With so many new sights and smells, it can drive even the most well-behaved animal into an excited frenzy. Make sure during your travels to always keep your pet on a leash or harness. This will keep them from eating things they shouldn't, rolling in something they shouldn't and lessen the odds of them physically hurting themselves.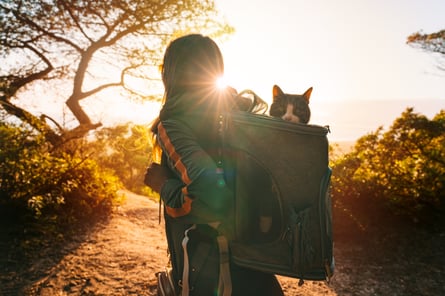 Whether you're planning a cross-country excursion or sticking closer to home, it's always a good idea to ensure your vehicle is as safe as possible for you and your furry bestie. Once you have checked over the vehicle, make sure you put your CAA Plus Membership somewhere easily accessible in your car. The Plus Membership covers you with all the benefits of our Basic Membership, and also includes the following:
Emergency fuel delivery (including free fuel)
A second service vehicle if needed at the breakdown site
Vehicle lock and key services up to $100
To learn more about how you can experience the Plus side of CAA, click here or call us at 1-800-263-7272.
Help ensure your pet is protected
Another important thing to consider is pet insurance, which can provide peace of mind should anything unexpected happen while enjoying your travels. CAA recently partnered with Pets Plus Us to offer our clients exclusive discounted rates on pet insurance. CAA Members save 12% and non-Members save 7% on insurance plans.
Pets Plus Us policy holders also receive free access to its unique Blue Ribbon Benefits, including a 24/7 Pet Poison Helpline® and PetHelpFone, which connects you with experienced veterinary nurses that are available 24/7. These services can be extremely helpful to have in your back pocket if an emergency were to arise while travelling with your pet.
To learn more about how pet insurance can help you on your next trip, visit caaniagara.ca/petinsurance.
Hotels for Dogs (& Cats)
When travelling with your pets, making sleeping arrangements ahead of time is key as not all hotels will accommodate your faithful floof.
It is also always a good idea to plan out where you will dine on your trip to ensure your pet can join you. Thankfully, summer is the perfect time to hit up a pet-friendly patio. Also, depending on where you're headed, packing a cooler with food and beverages may be a fun option too. An impromptu picnic is a wonderful opportunity for you and your travelling companion(s) to enjoy some fresh air.
Planning is key when travelling with pets. Even though it may require more time and energy to ensure the trip is successful, life is always better pets (in our unbiased opinion).
A CAA Travel Consultant can help you map out pet-friendly accommodations and restaurants along your trip. Click here to book an appointment with one of our agents and start planning your summer adventure!
Happy travels friends!
---
"The information herein is summarized, the actual policy issued Terms and Conditions will prevail. All Pet Insurance plans have limitations and exclusions. Specific products, features, rates, and discounts may vary by province, eligibility, and are subject to change.
© 2022 All rights reserved. Pets Plus Us Pet Insurance policies are underwritten by Northbridge General Insurance Corporation, distributed by PTZ Insurance Services Ltd. & Société d'Assurances Collectives (Sodaco) Inc. in Quebec. Pets Plus Us Pet Insurance is available in all provinces and territories.