Like many Canadians, I have been camping for as long as I can remember and have experienced everything from backcountry crown-camping to car-camping – visiting many of Ontario's amazing campgrounds and provincial parks. With camping season right around the corner, it's a great time to take a look at some of my choices for essential camping gear to bring with you on your next trip to make it a more comfortable and enjoyable experience.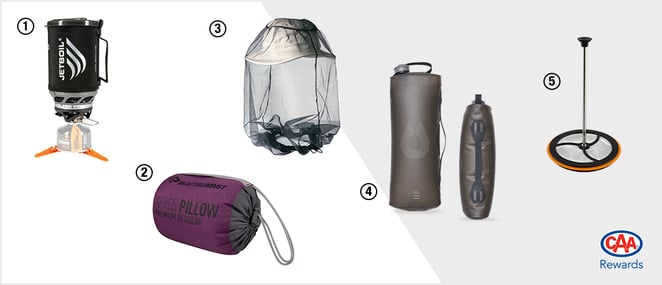 1. JetBoil Sumo Cooking System

I have been using JetBoil products for years now and I absolutely love them for their packability and easy use. The JetBoil Sumo Cooking System has eliminated the need for a white-gas stove I usually brought along on trips, so even with the larger stove system I actually save pack-weight in the end. I almost always go camping with a group of people so the weight trade-off by going with the larger Sumo is worth it for me to use this stove to cook for the entire group.
2. Sea to Summit Aeros Pillow
For a long time, I thought a bad night's sleep and being a bit uncomfortable was the price of admission for backcountry camping. Like most backcountry campers, I'm always watching my pack-weight, but the Sea to Summit Aerios Pillow is a must for me in order to get a good night's sleep and I've never regretted the extra weight or size it takes up in my pack. Especially during multi-day hikes or portage loops, quality rest is crucial for finding the energy to break camp each day and move on to the next spot.
3. Sea to Summit Mosquito Head Net
View product >>

A small, packable, bug net is always a good thing to bring along when camping in Ontario, but in my opinion, it is essential for medium to long portages from Spring onward, in order to keep bugs out of your face while on the trail. During the Spring months, portage trails tend to have lots of standing water from the winter thaw that serve as breeding grounds for the mosquitos to wait and ambush you as you pass through, occupied with carrying gear. Keep it handy and you'll be thankful you did.
4. Hydrapak Seeker 4L
View product >>

A lightweight and collapsible water bag is definitely a "quality of life" piece of gear, but it can save you several trips out in the canoe every time you need to get more water. Whether you are filtering the water for drinking or cooking, or using it for other purposes, having lots of water on hand is certainly a nicety that is worth it for how small and lightweight a water bag is when collapsed down.
5. JetBoil Silicone Coffee Press
Not much needs to be said about this piece of gear. If you have a JetBoil cooking system, then the new-and-improved JetBoil Coffee Press (make sure to get the "Grande" size for the Sumo) is an absolute must-have. Its design is a big improvement on the previous version, so say goodbye to grounds in your coffee. If you're a coffee lover like me, this adapter means you can get coffee into yours and everyone else's hands in no time – it's a no-brainer. It is designed to pack nicely inside the JetBoil system, so you get all the benefits without any additional pack size.
---
Interest in camping is seemingly at an all-time high, and with campgrounds filling up quickly there's never been a better time to explore the backcountry. Don't forget, when you are choosing your gear from Altitude Sports, CAA Members earn 4% in CAA Dollars. Enjoy some time outdoors and don't forget to "leave no trace".