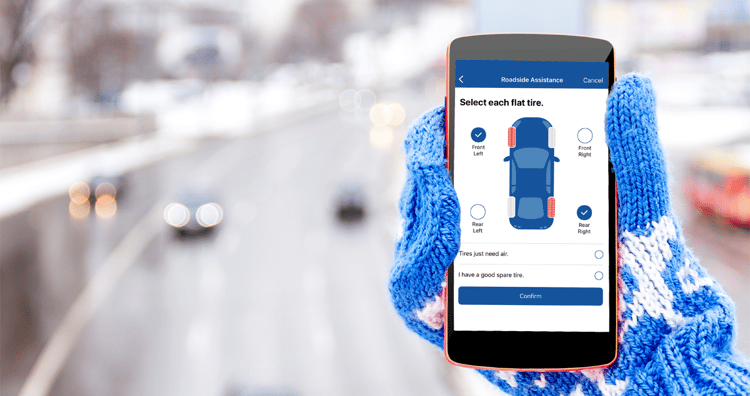 Avoid getting caught in winter weather this season with help from the CAA Mobile app. Before the snow falls, download the CAA Mobile app to take advantage of convenient roadside assistance features as well as many other Member benefits, on the go.
Request roadside assistance quickly
Requesting roadside assistance has never been easier. Once logged into the app, Members can navigate to 'Roadside Assistance' and, a few taps later, see the status of their call and estimated time of driver's arrival.
In need of assistance in an unfamiliar location? No problem with the CAA Mobile app.
Not only is a roadside assistance call tracked in real-time, but by turning location services on, Members can pinpoint their exact location and find nearby service centres. Once a request is submitted, Members have the option to share this information with family and loved ones, too.
Locate nearby CAA branches and Approved Auto Repair Facilities
Turn your location services on to find nearby CAA Branches and CAA Approved Auto Repair Facilities (AARS), service providers that meet strict CAA requirements for delivering quality service at a fair price. Plus, the repair work is backed with a one-year, 20,000 km Canada-wide warranty on most parts and services.
Easy access to CAA savings and earnings
The CAA Mobile app makes it easier to claim your Member benefits at over 124,000 retail partner locations worldwide. Open the Mobile App to see nearby in-store offers and retailers, or tap through to view online offers from top brands, including Sephora, RW&CO. and Staples.
Add your CAA card to your mobile wallet
Not only can you view your CAA Dollar balance and Instant Savings transactions, but Members can also add their CAA digital card to their Apple Wallet or Google Pay. Doing so means claiming your Member benefit at CAA Rewards partners has never been easier.
The CAA Mobile app is available for Android and iOS.
Discover more helpful winter driving blog content here.