The app you know and love has been upgraded! While some apps may be tricky to understand, the new CAA Mobile app is designed to be easy to navigate and houses the top features of your CAA Membership. If you love instant savings, collecting rewards on what you buy and CAA Dollars
®
,
download the CAA Mobile App today
. It's quick and easy to go mobile with your Member benefits, find exclusive deals, track savings or request roadside assistance. All within the convenience of a single app.
Take your Membership with you wherever you go and discover these key features for yourself.
Request Roadside Assistance Quickly
Requesting roadside assistance has never been easier with the CAA Mobile app. Members can simply click on the request roadside assistance button on the main navigation. Easily submit your breakdown information, drag and drop a pin to identify your location and desired towing destination.

Members can request roadside assistance quickly in the CAA Mobile app.
Members can also opt-in for text message updates on their service request and share this with loved ones.
Find Nearby Savings
With over 100,000+ CAA Rewards Partner locations across North America, there are instant savings and deals at every turn. Members can personalize in-app offers by selecting their favourite brands during the on boarding survey. Turn on location services to search for nearby Rewards Partners, or search for online deals.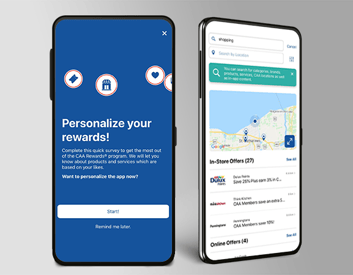 Personalize your offers through a quick survey and find nearby offers by searching in-app.
Search and save at The Source, Harvey's and RW&CO. and so many other great Rewards Partners.
Access to your digital Membership card
The all-new CAA app offers one convenient place where you can easily update your information, renew your Membership, view your CAA Dollar and Instant-savings balances, and so much more. Log in using your CAA Membership number, username, and password for MyAccount. Members who do not already have a MyAccount can easily create one in the app.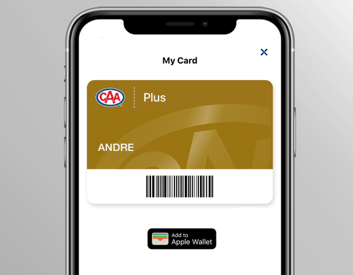 Digital Membership card displayed in-app.
Never worry about forgetting your Membership number! Flip your phone horizontally or tap the card icon in the upper right-hand corner to display your digital Membership card. It can also be added to Apple Wallet or Google Pay for quick access.
Get Started!
Take the all-new CAA app with you everywhere you go. Try out these great features for yourself but downloading the CAA Mobile app.