With the arrival of winter, there's no time like the present to get your roadside safety kit ready. While this often includes a shovel, some ice melt, and blankets to stay warm adding the new CAA Mobile App to that kit will assure you are covered for any issues that might arise this season.
If you downloaded the CAA Mobile App prior to September 9, 2020, then you'll have to delete that version and download the current version.
Once downloaded, you will be asked to provide your Membership Number and the email and password attached to your MyAccount. If you do not have a MyAccount, you can create one in the app. Once logged in, you will be directed to the Home Screen of the app.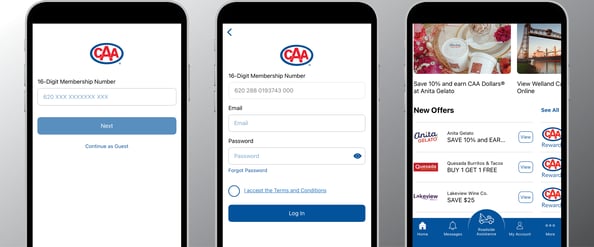 Requesting Roadside Assistance through the CAA App
Along the bottom of the Home Screen will be a blue menu bar. The Roadside Assistance button will appear in the middle of this bar accompanied by a tow truck icon. You can then tap this button to begin your request for assistance.
You will be prompted to click one of two options:
"Request Roadside Assistance" – this will have you answer a series of questions to identify the specific issue, your location, vehicle information and where you would like your vehicle towed. It is also the faster method of the two.
"Call 1-800-CAA-HELP" – this option will connect you with a member of our Dispatch Team who will ask you the same set of questions over the phone.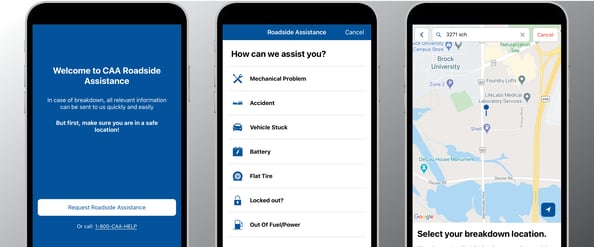 For your safety and convenience, you will also be able to receive text message updates pertaining to your call, can share your status with family and friends, and can track your driver's estimated time of arrival. You can also cancel the request should you no longer need assistance.


---

No matter the issue, the CAA Mobile App is here to make your life on- and off the road that much easier. Visit the App Store or Google Play and download the CAA app today!