Father's Day is your chance to make Dad feel special. There are plenty of great gift ideas out there, but this Father's Day Coupon Book will give you reasons to celebrate him all year long. It's also customizable – meaning you can reuse these coupons for any loved one. Whether this be a gift for your dad, uncle, grandfather or mentor, they'll be sure to love it!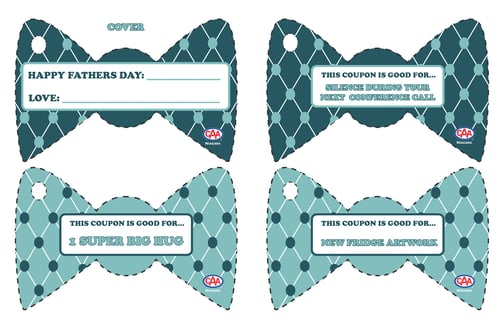 What you'll need:
Computer with access to a printer
Printer paper or cardstock
Scissors
Hole punch
String or Ribbon
Pen or pencil
If you need supplies to finish this craft, be sure to check Beatties. Not only do they offer delivery or curbside pickup, but CAA Members can also save 10% on regular price office supplies.
Crafting Instructions
Print out coupons (we suggest using cardstock for this)
Use scissors to carefully cut out each coupon (follow the dotted lines around each bowtie). We recommend an adult take care of this step.
Write the name of the person the gift is for and who it is from on the front cover
Use hole punch to create a hole in the white circle located in the top left corner of each coupon
Stack the coupons face-up. Make sure you alternate between dark and light coupons each time
Think of what you would like to use for the "Create Your Own Coupon" (If you really want to spoil Dad, print off as many of the these as you like!)
Loop string or ribbon through the holes and tie the coupons together to complete your booklet.