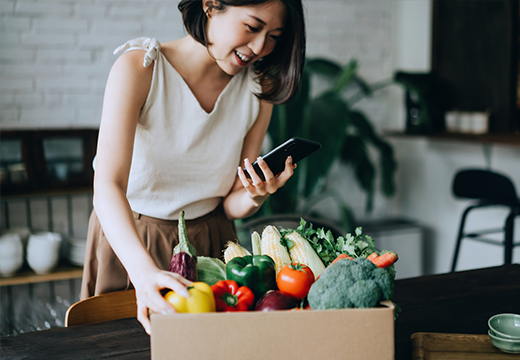 For many of us, the past year has been full of changes to our daily routines.
Some of us have switched to exclusively shopping online for items, such as clothes and groceries. Others must attend school or personal appointments virtually. Regardless of the task, there's a good chance you've experienced your usual activities, remotely. If you find that this is becoming an everyday occurrence, you're likely not getting behind the wheel as often.
For those who are driving less, you might be surprised to know that you could also be spending less. Say 'hello' to CAA MyPace™. This pay-as-you-drive plan allows you to take control of car insurance costs by giving you the freedom to pay only for the distance you need. Think of it as a way of rewarding yourself.
CAA MyPace is best suited for those who drive less than 9,000 km a year and it can be used in four easy steps. All you need to do is enroll in CAA MyPace and pay your base rate plus your first 1,000 km. Then you simply install the CAA MyPace device in your car. You must then download the CAA MyPace App for iOS or Android. This will help monitor your usage. Finally, the last step is to drive. CAA will automatically reload your next 1,000 kilometres for you.
If you plan on driving less and want to save yourself some money, contact a Licensed CAA Insurance Agent at 1-833-665-8237 or get a quote online today.
---
Auto Insurance is underwritten by CAA Insurance Company. Certain conditions, exclusions and underwriting eligibility rules apply. Vehicle compatibility and enrolment in CAA MyPace payment program is subject to terms and conditions.
®/™ CAA trademarks are owned by, and use is authorized by, the Canadian Automobile Association.