Canada Day lands on a Friday this year, making it the perfect opportunity to explore the natural treasures our country is so well-known for. A three-day weekend may not be long enough to jet across Canada to see famed wonders like Banff or Gros Morne National Park, but there are plenty of spectacular trails and parks in and around the Greater Toronto Area.
Here are our top four must-see spots. Happy hiking!
1. Kariya Park – Mississauga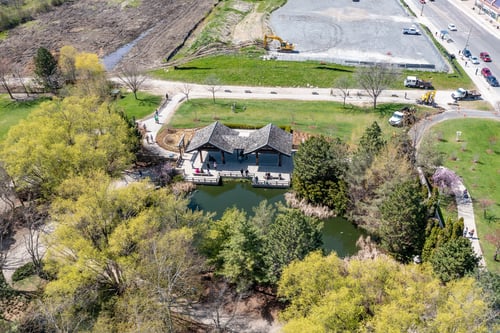 This Japanese garden is a beautiful spot within the City of Mississauga. Named after Mississauga's sister city, Kariya, Japan, this serene park features Japanese-inspired gardens and walkways and even includes a display of a friendship bell donated by Kariya in 2001. Interestingly, the City of Kariya also has its own Mississauga Park with a replica of the Mississauga city hall.
If you can't make it to Kariya Park this weekend, consider visiting in the spring instead. It's a wonderful opportunity to see the cherry blossoms and magnolia trees in bloom.
2. Scenic Caves Nature Adventures
–
The Blue Mountains
Ever heard of this hidden gem? Experience the majestic Niagara Escarpment at its highest point and discover the mysterious caves of the First Nation's Huron Petun tribe. This adventure park is also home to the largest suspension bridge in Southern Ontario, measuring in at about 420 feet and offering mesmerizing views. There is so much to see and do at this popular destination, with plenty of kid-friendly activities available.
3. Rattlesnake Point Conservation Area – Milton
You will not be able to resist the breath-taking views that await you at Rattlesnake Point. Located just 47 minutes from Niagara, the conservation area offers a great combination of forest hiking and scenic Escarpment views along the Nassagaweya Canyon and Vista Adventure trails.
Before you go, be sure to book a park reservation here.
4. Cheltenham Badlands – Caledon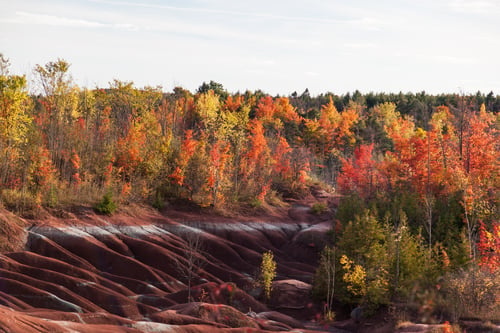 Experience one of southern Ontario's most recognizable landmarks and geological gems. First formed over 450 million years ago, the Badlands are a popular tourist destination because of its rolling landscape of red rock that is void of vegetation and soil.
Physical access to walk on the Cheltenham Badlands is not available due to erosion, but it's still viewable from the accessible boardwalks and surrounding trails.
---
This upcoming long weekend is the perfect time to get out and explore all that your local and surrounding regions have to offer with your family and friends. But no matter what your plans are this Canada Day, trust that CAA Niagara has your back.
With CAA Plus Membership, you can have peace of mind knowing that your plan includes up to 250km of towing. Learn more by clicking here or calling our Membership team at 1-800-263-7272.