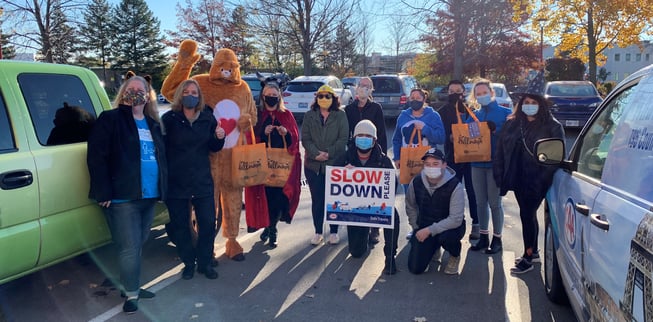 Members of the CAA Niagara team gear up for a day of contactless treat bag drop offs for the CAA Spooktacular Halloween event in support of Food4Kids Niagara.
The generosity of CAA Niagara Members was highlighted over Halloween weekend. Although the day may have looked different this year, the team at CAA Niagara kept the spirit alive with the first Spook-tacular Halloween treat bag drop-off in support of CAA Community Boost recipient, Food4Kids Niagara. Bags filled with activity books and candies were dropped off at homes across Niagara in exchange for a non-perishable donation. In total, two truckloads of donated food items had been collected.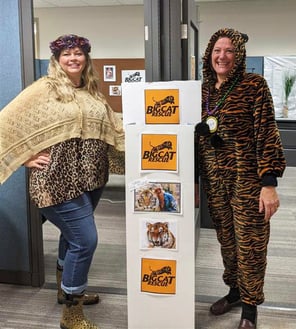 Lisa Boardman (left), Manager, Travel Product and Vendor Relationships, and Lois Sarkisian (right), Manager, Groups and Tours dress as characters from Tiger King for Halloween.
Earlier in the week, Members of the CAA Niagara team took part in a Halloween-themed fundraiser lead by the CAA Niagara Travel team. Themed as Netflix's popular Tiger King series, the draw boosted the overall donation to Food4Kids.
These donations will directly support youth across Niagara who experience food insecurity.
More than 1,500 children in Niagara have limited access to adequate nutrition each weekend, a need that has heightened during the COVID-19 pandemic. Food4Kids Niagara works alongside schools to support students experiencing limited access to food each weekend. The Agency provides healthy food packages for kids between the ages of 4 to 14. At this time, Food4Kids Niagara assists 21 Niagara schools and provides more than 18,000 food kits each year.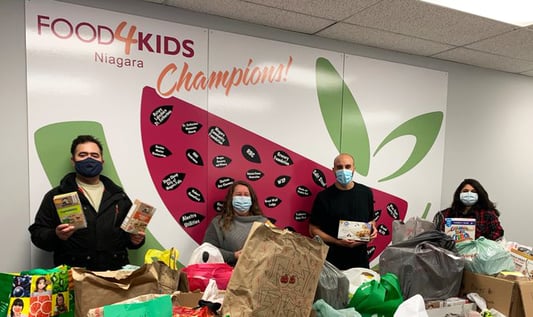 Members of CAA Niagara and Food4Kids Niagara team stand behind CAA Member donation collected from CAA Spooktacular Halloween event.
Donations are collected at the Food4Kids Niagara office, where they are categorized and prepared for packaging. Each week, community volunteers and businesses assist the agency with packaging food kits for the more than 360 children registered. Those food kits are then brought to the children's schools for distribution.
When students leave school for the weekend, they should not worry about how they will be fed. When children receive the nourishment they need, new opportunities open up. They can focus better in class, have higher energy levels, improved test scores and attendance, and become more social.
CAA Niagara is grateful for the support of our Members and is proud to support Food4Kids Niagara's work within our community. Those who are interested in learning more about the Agency's fight against child hunger are encouraged to visit the Food4Kids website. Financial donations can be made by purchasing and mailing a grocery gift card to Food4Kids Niagara, or donating directly online by visiting the Agency's website. Volunteers are also needed to package and deliver food kits, and are encouraged to apply online.
---
CAA Community Boost Program
CAA Niagara has a strong history of improving the lives of people in our region. Over the past few decades, CAA Niagara has donated everything from Jaws of Life to fire departments to mini tow trucks at the Niagara Safety Village. In 2018, CAA Niagara decided to pool its donations and significant sponsorship dollars to fund a new, more focused corporate giving program, now known as CAA Niagara Community Boost.