When you think of CAA Niagara, what's the first thing that comes to mind? Have you recently booked a vacation with the help of a CAA Niagara Travel Advisor? Are you on the move and looking to protect your valuables with CAA Home Insurance? If you said yes to any of these, then you know that being a Member has its perks.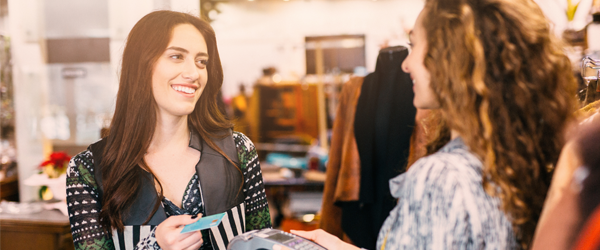 With more than 160,000 partners across North America, many Members are already taking advantage of the great savings opportunities available through CAA. However, did you know that some of these partners also help you earn while you shop? Say 'hello' to CAA Dollars®. These special rewards dollars are exclusive to Members through the CAA Rewards® program and can be redeemed in-branch in a variety of ways.
To help you fully understand how this all works, we've put together a list of need-to-know facts below. Be sure to check them out and make the most of your Membership!
What are CAA Dollars?
CAA Dollars are earnings members get when they make a purchase with certain CAA Rewards partners. While some partners help limit your spending through an exclusive discount, others will help you earn a percentage of your purchase back – or, in some cases, both.
What is the value of a CAA Dollar?
It's simple – 1 CAA Dollar is worth 1 Canadian Dollar. For example, if you made a purchase of $100 CAD at a partner that helps you earn 3% back, you'd earn 3 CAA Dollars.
Which partners help me earn CAA Dollars?
A full listing of Rewards Partners is available online and will tell you if a partner will help you save, earn or both!
Some of our favourites include:
In some instances, offers may only be able available online. In this case, Members must go to the Rewards portal and use the link provided by the partner to earn CAA Dollars. Examples of these include:
You can also sign up for a CAA Rewards Mastercard® credit card. This card is accepted worldwide and helps you earn 1% in CAA Dollars on eligible purchases.
How can I check how many CAA Dollars I've earned?
Create or login to your My Account online. It may take up to 60 days for a CAA Dollar transaction to show in your My Account, so make sure you keep a copy for your records.
How can I use my CAA Dollars?
When it comes time to renew your membership, any CAA Dollars that you've earned throughout the year will be used towards your renewal fee. Any CAA Dollars that remain on your account after this will be carried over and are yours to use in the following ways:
Renew your CAA Insurance premium
Put towards travel or on a hotel stay when booking through CAA Travel
Upgrade your CAA Membership
Give the gift of a CAA Membership
Purchase merchandise at a CAA Store
Purchase attraction tickets at a CAA Store
How can I stay up to date on everything rewards-related?
There are plenty of ways to stay in the loop!