Located in the heart of Canada, Ontario and Quebec are home to some of the best sites and attractions around. Not only are both provinces are known for their uniqueness, they also provide visitors with experiences that will last a lifetime. We're about to head on a journey through Central Canada's top five destinations, so pack your bags and get ready for your next adventure.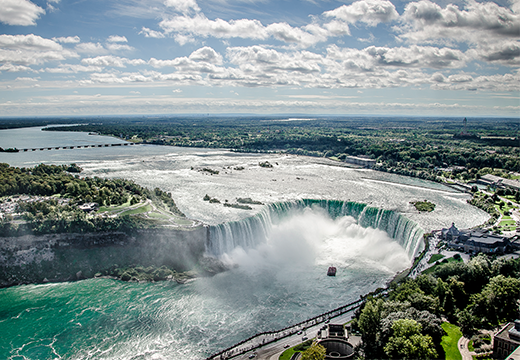 Niagara Falls
An area known for its natural beauty and never-ending fun, there's no wonder why Niagara Falls sees visitors from all over the world.
Widely considered as the home of the world's fastest-flowing waterfall, this iconic landmark will leave you both excited by its sheer force and relaxed by the cooling mist and rainbows that appear in the skies above. Several views of the falls are available to tourists too, whether that be standing a few feet from its drop-off point, in a cave behind it, at its bottom in a boat or while riding a helicopter high in the air.
This are is also filled with countless options for entertainment. Some of the most popular activities include arcades, haunted houses, retail stores and indoor water parks on nearby Clifton Hill. There's also many options for dining, like in the Skylon Tower, and opportunities to learn more about the local history. No matter the adventure, Niagara Falls does not disappoint.

Toronto
There is always something to do in Toronto. This should come as no surprise. After all, it is Canada's largest city (and fourth largest in North America). By embracing cultures from all nations, Toronto is considered world-class and is sure to satisfy all your senses through international cuisine, arts festivals, live events and exciting attractions.
As an added boost to Toronto's worldwide reputation, the CN Tower is a hotspot for tourists and rightfully so. Up until 2007, it was the tallest free-standing structure on the face of the Earth. It's so tall that on a clear day, there are several spots throughout Niagara where you can look across Lake Ontario and see it standing above its fellow skyscrapers. With incredible views available at every turn, the tower will give you a brand-new perspective of Toronto. You can even take a stroll on top with the CN Tower's Edge Walk, an exhilarating experience where you take a 360-degree guided on top of this massive building.
CAA Members save 10% on General Admission to the CN Tower.
If that's too extreme, you can always head next door to the famous Ripley's Aquarium, hop on a ferry to Toronto Island Park, visit the local museums and art galleries and much, much more.

Ottawa
Ottawa is a special place that is rich with history and significance. It is home to Canada's Prime Minister and a prime example of Canada's bilingual roots.
Likely Ottawa's best-known attraction, Parliament Hill is a must-see. Whether you enjoy the views from outside while relaxing on its giant lawn, or take an in-depth tour inside its buildings, the stunning architecture that houses the Canadian Government will leave you in awe. The surrounding area consists of many more historical buildings and is a great way to learn about Canada's past.
You can also enjoy the outdoors and hangout by the Rideau Canal, which converts from a popular waterway for commercial and private boats in the summer to the world's largest skating rink in the winter. Of course, there is always opportunities to embrace the city's culture through markets, museums and galleries.

Montreal
Montreal is the second largest French speaking city in the world, and hosts the most international events among all North American cities. Safe to say, Montreal is an international gem.
As is the case for our previous destinations, there is so much to do in the beautiful city. You can climb to the top of Mount Royal (for which the city is named after); explore the ecosystems that exist in the Montreal Biodome; or enjoy some of the local entertainment which includes the likes of Cirque du Soleil.
This is a city that often leaves visitors coming back for more. With its passionate people, who cater to your every need, Montreal is definitely a destination worth adding to your wish list.

Quebec City
Some of Quebec City's claims to fame include being the only walled-city north of Mexico and oldest French-speaking community in North America, make it a perfect vacation spot. With its cobblestone roads, beautiful architecture and love for French-Canadian culture, your visit here might make you feel like you're in Europe.
For those looking for an adventure, you will have a lot to choose from. Ski hills, amusement parks and tours of the Aquarium du Quebec and Citadelle of Quebec, will provide you with fun and educational experiences.
If you're looking for something a little more relaxing, you can also take in a view of Montmorency Falls – which are 30 metres taller than Niagara Falls!
Central Canada is a hub for great travel experiences. When you're ready to explore this part of Canada, contact a CAA Niagara Travel Consultant. Visit your local CAA Niagara branch, call 1-800-263-7272, or book an appointment online to get started.